"Help me to do it myself!"
Maria Montessori's mission statement is the guideline for Rainbow Preschool e.V.
Three professionals support our boys and girls in their individual development. Each day they help our children to fulfill their natural urge to perform a task independently. The lessons are adapted to the learning rate of the child. The children are able to develop their interests and extend their skills step by step.
"Your hands are there to help each other and not to hurt each other" is another guiding principle of our preschool.
24 children from different national backgrounds discover, play and sing together in one group. They are between three and six years old. A balance of age and gender among children is important to us. This way they can best support each other and learn from their peers.
Depending on the level of development the educators provide each child with new materials in the fields of mathematics, sensory, language, and practical life. They use tools that Maria Montessori designed. Number rods, spindle boxes, and the golden bead material open the way into the world of numbers and arithmetic. Chalk, sand, and emery paper letters help to acquire reading and writing skills. Pinning out on sketched lines and shapes with a pinning out needle promotes fine motor skills. On special frames with fabric, the children practice how to tie a bow or how to open and close a buckle.
Activities like these are a great challenge for all children. Highly concentrated, they work towards the solution of the task. "Joy by success instead of frustration by failure" is an important principle for our educators. Therefore they very carefully prepare each child for the next level of difficulty.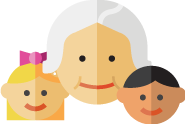 Maria Montessori Maria
Montessori was born not far from Ancona in the Adriatic village Chiaravalle on August 31 in 1870. The family was very well educated. Therefore Maria discovered at a very young age her love for science. As one of the first women in Italy Montessori successfully graduated with a medical degree in Rome. During her studies, the young physician experienced the entirely underdeveloped field of child psychiatry. It was desolate and dilapidated storage for children with mental disabilities. The dedicated doctor was upset and wanted to do something about it.
She researched and finally found the right approach in the books of the doctors and educators Jean Itard and Edouard Séquin. Children with mental disabilities would need their own form of pedagogy. Maria resolutely committed to the needs of children and required the construction of special facilities. At the end of the 19th century, Montessori began her own research and started to document her significant observations and studies in child psychiatry.
Her consolidated findings helped her to develop materials for math and language teaching. During this time she also gave birth to her son Mario.
Montessori founded the "Casa dei Bambini" in January 1907 in the poor working-class district of San Lorenzo in Rome. It turned out to be groundbreaking. In the children's home, teachers cared about the destitute but mentally healthy children. Due to a lack of alternatives and money, the philanthropist Montessori left her auxiliary materials (originally designed for mentally disabled children) to the children´s house – with resounding success. The children from the lower class learned fast and focused. One day Maria completely magnetized watched a three year old girl. Despite massive noise problems she could not be distracted from her work using cylinder blocks. Later, the philosopher described this moment as a high focus "polarization of attention". Over the next 20 years, the scientist developed her Montessori Method from experience and careful observations.
In 1929 Maria founded the "Association Montessori International (AMI)". She wanted to ensure the continuation of her work. Since the early 50s the headquarters of the AMI has been located in Amsterdam in the Netherlands. The increasing age of doctor Montessori did not stop her from accepting international invitations of different institutions and interest groups (especially from India). The reform pedagogue taught in many lectures and trained other teachers in her method. Finally she returned to Europe in 1949.
Montessori died on May, 6th in 1952 in Noordwijk aan Zee, Netherland. Her son Mario continued the work of his mother and lead the AMI until his death in 1982.
In the centre of Maria Montessori´s reform pedagogy is the personality of the child. The ultimate goal is to take each child as a perfect and equal being.